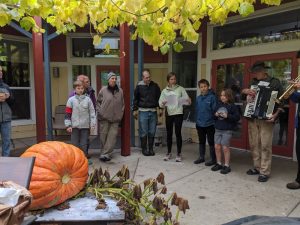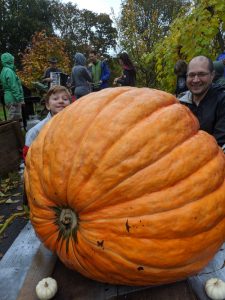 (Submitted by David Kimdon, pumpkin whisperer.) A pumpkin, a marching band and a bunch of friends. What better way to start a day of community building? We started at 9 am with a parade down the path honoring Greatest Pumpkin. From the moment of her introduction to the community as a tiny seedling early last spring we tended to her every need. Once planted in the ground she grew and grew and then kept on growing to match our wildest dreams. Now she resides in the common house circle for all to behold.
To witness the birth of the Great Pumpkin, check out this link.
Watch part of the Great Pumpkin Parade on the Path, here.