According to our maintenance reserve schedule, our building exteriors are due for painting in 2016. Some might say (wisely) that a consensus decision about color is a challenging undertaking.  Communities under construction or communities at the repainting stage like CoHo have used a variety of strategies.
CoHoots started the process early with an agenda titled "Dreaming in Color" at our December community life meeting.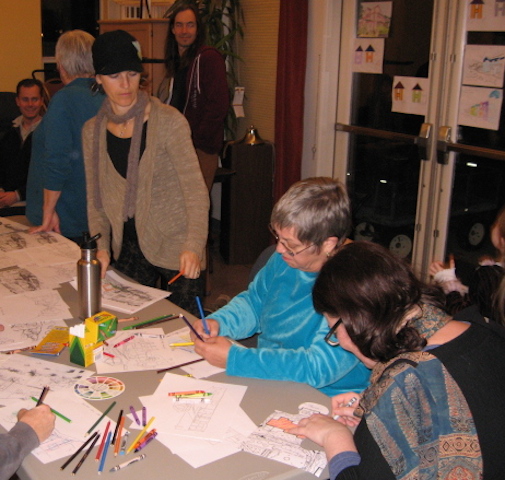 Portions of the agenda give some context for our approach...
Goals:
Have fun exploring color options, dreams and fantasies (dip your toes, wade to your knees or jump in and wallow in the abundance!)
Learn more about community members' relationships to color
Provide a welcoming environment for CoHo young people to join a Community Life meeting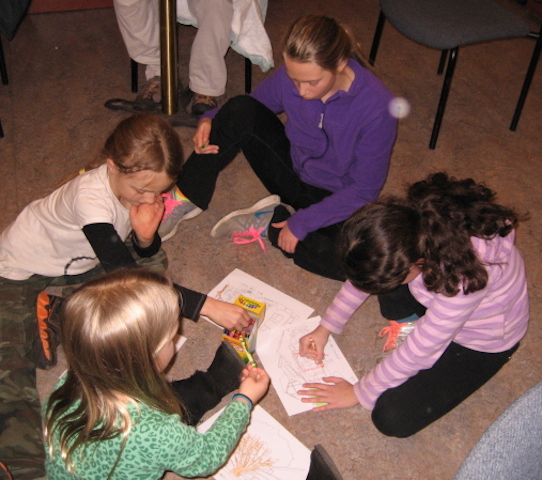 Opening: Song about colors
Explanation of stations / activities (8 minutes):
Briefly what and where each station / activity is / can be done
Move when and where piques interest – or stay at one station for the entire time
Stations / Activities (1 hr):
Multiple stations, including those for people of all ages who want to:
suggest colors for Coho
play with color
talk about color
listen to people share about color
learn about color
CoHoots were asked to sign up on lists to reflect their level of engagement with this task. Some formed a color committee to continue the work, some decided to drop in as they can, and some were willing to happily cheer from the sidelines and celebrate the outcome--no matter what palette is selected.