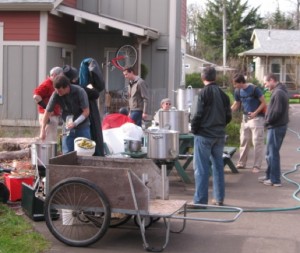 CoHoots and friends recently brewed several batches of beer at a scenic pull-out along the CoHo path.
The spent grain from brewing was claimed to make spent grain bread for an upcoming Resilience Network session–The Power of Yeast (and Bacteria), set for Friday, February 18th.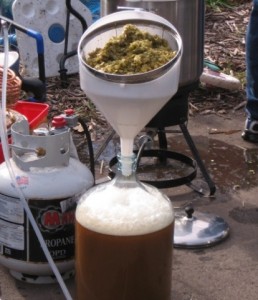 Brewmaster Jeremy will be sharing info on preparing and preserving foods (think beer, cheese, mushrooms, bread, wine).
Jeremy planted some hops at CoHo and trellised them to grow up to the second story of building 4.  The CoHo site had been home to a hops processing barn; the tower above the atrium in our Common House is based on the design of that structure.
Some folks found the whole episode exhausting and took a well-deserved break.