When you're immersed in community, it's sometimes difficult to remember how it looks to a first-time visitor.
Some cohousers from Bend, Oregon recently made a quick 36-hour visit to Corvallis, stayed at the CoHo guest room, and then shared this account of their visit.  We appreciate their permission to share it with you.  For information on their community–Higher Ground Cohousing–visit their website https://sites.google.com/site/highergroundcohousing/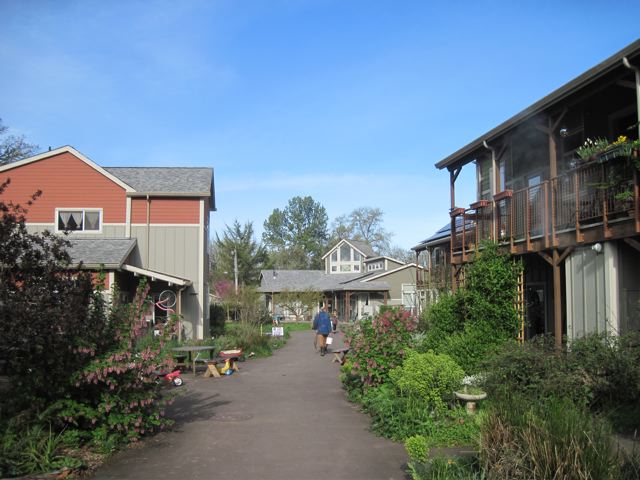 34 homes in clusters of 3-5 units, including 6 "affordable" units subsidized by the local housing agency.   Common house is at the end of the two rows of units.  All parking is outside.  It took them seven long and difficult years to complete everything in 2007.  They are legally organized as a Condomium Association with dues of $150/month that includes maintenance of the outside walls and roofs.
A two bedroom unit is for sale asking $227,500.   A three bedroom at the Ashland cohousing is for sale asking $325,000.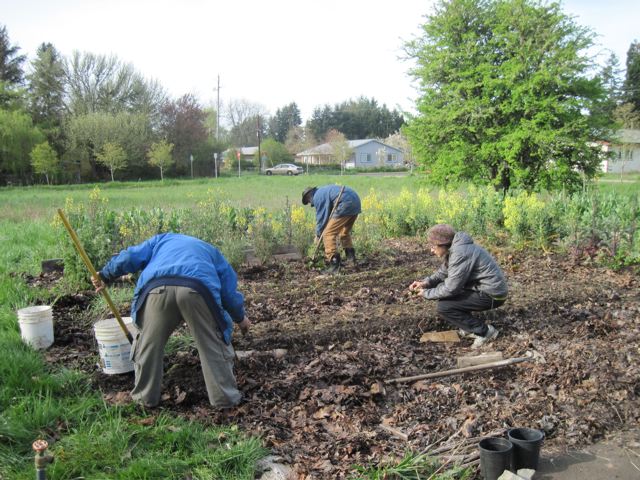 Gardening takes place in many different locations scattered all around the community including a couple sites outside the community shared with non-residents.   The soil is SOOOO different than ours — wet clayey and lots of organic material — also slugs.   One person tends the garlic and grows 8 varieties.  Another artichokes and rhubarb.   A small group specializes in potatoes, another squash.    Very decentralized.  One area is called the "commie plot" where anything goes 🙂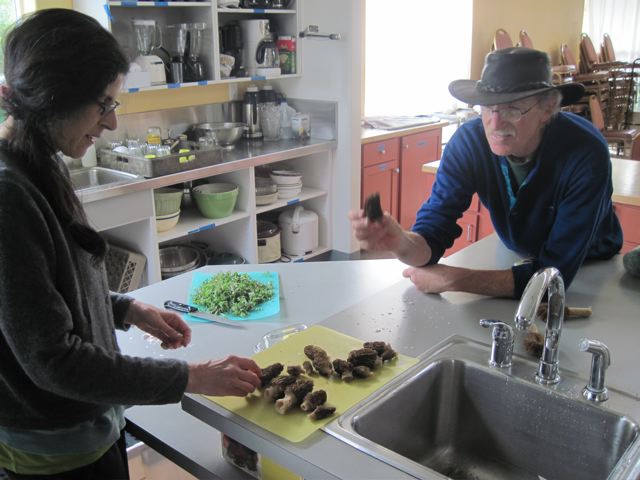 Morels grew in the asparagus patch so we cooked them up with fresh garlic and kale.  Yumm.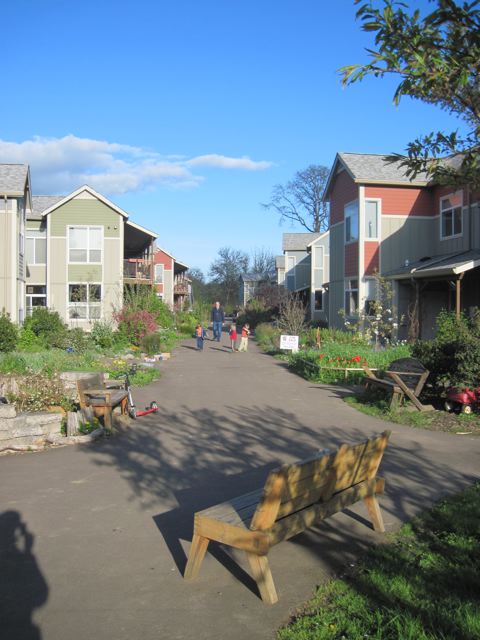 Being only 5+ years old (since move-in), there are still lots of kids in the community and many people said watching them grow up in such an idyllic place was the highlight of living there.   There are also quite a few retired or semi-retired folks as well.  One unit is dedicated to day care and another for a wheelchair bound resident and his caretaker.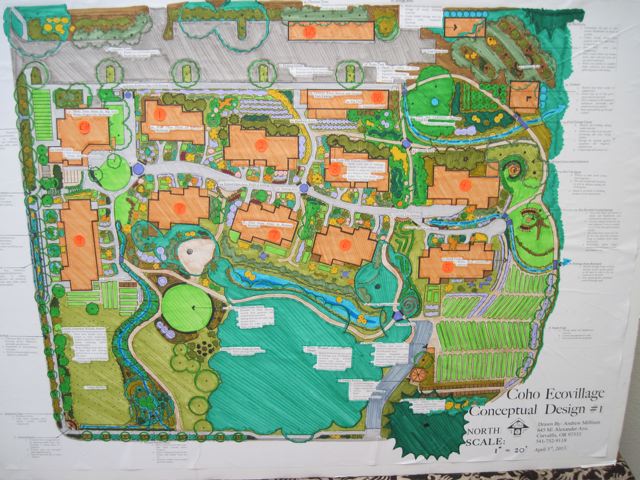 The community is now in a long and detailed planning process with a consultant to plan a bunch of landscape/site improvements, most of which are based on Permaculture principles — there will be lots of fruit and nut trees as the plan is implemented over the coming years.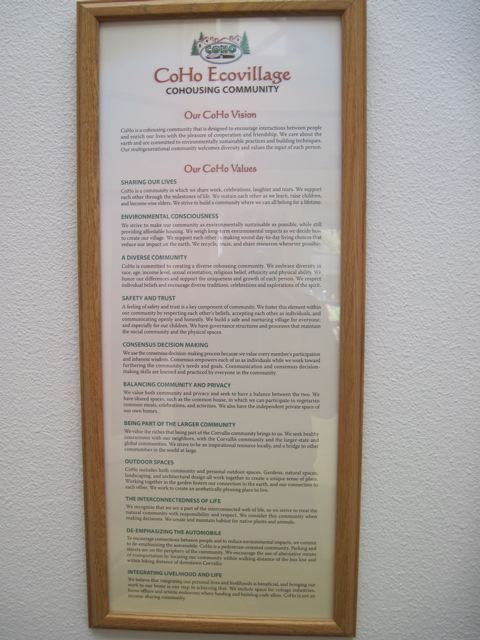 Vision statement and values posted in the common house.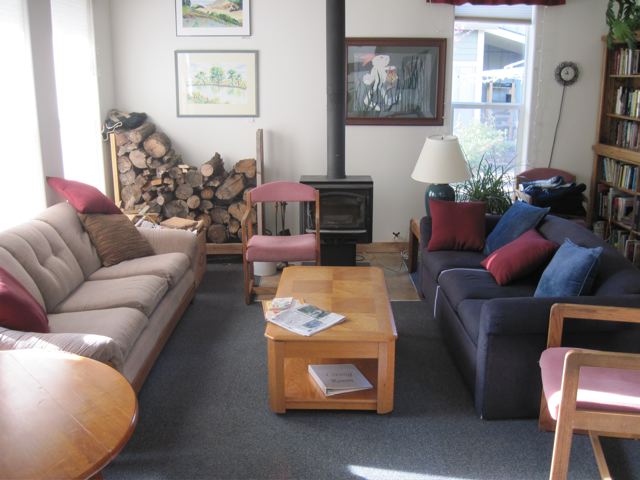 Common House living room for meetings and other quiet activities.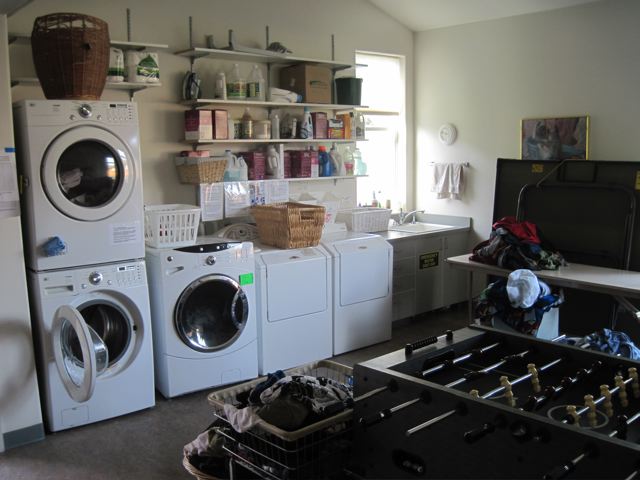 Community laundry and recreation room.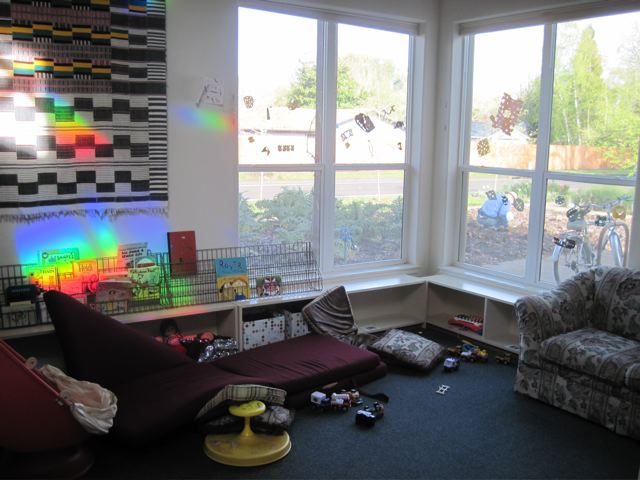 Kids play room.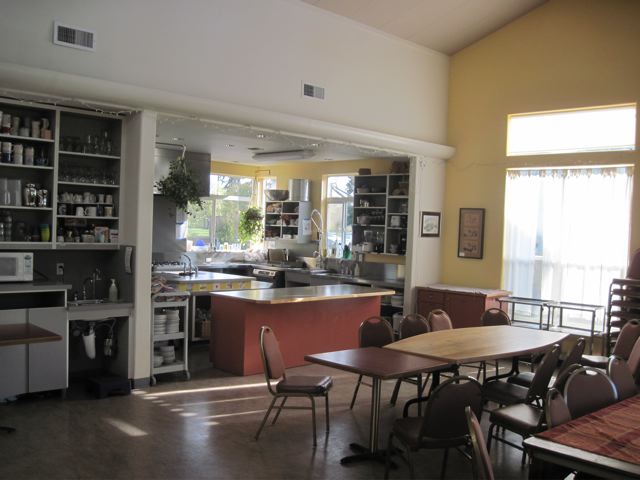 Dining & Kitchen.   They eat 3-4 meals a week together, using an online sign up system for a lead cook and two helpers and 3 for clean up.  Folks must sign up to attend and payment is auto-deducted.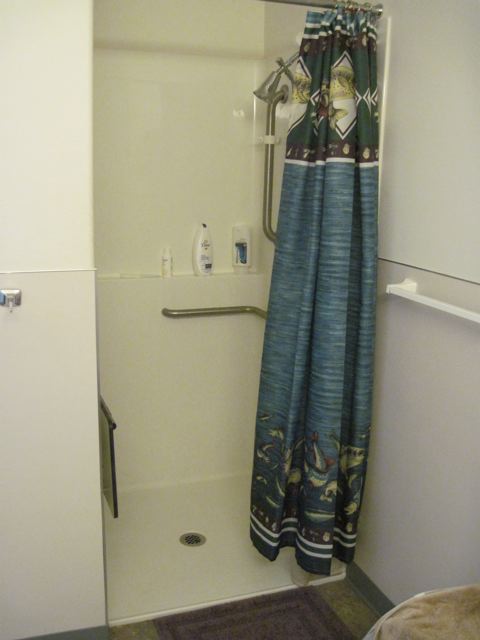 Guestroom includes an accessible restroom and shower.  Guest room has a "murphy" fold away bed to allow other uses of the room.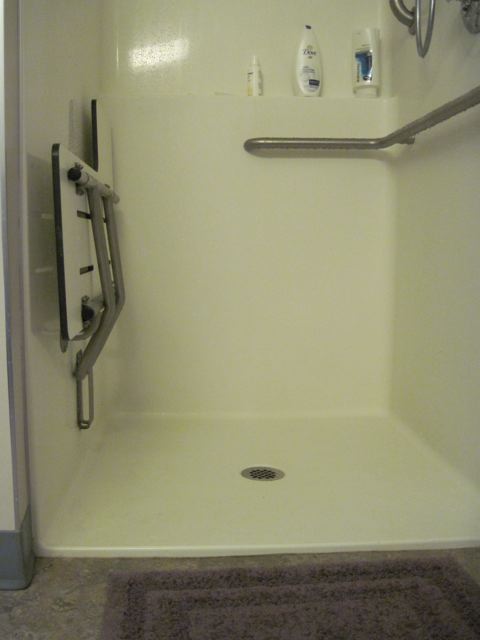 We both used the shower and no water got out of the shower, though there is another drain in the middle of the bathroom.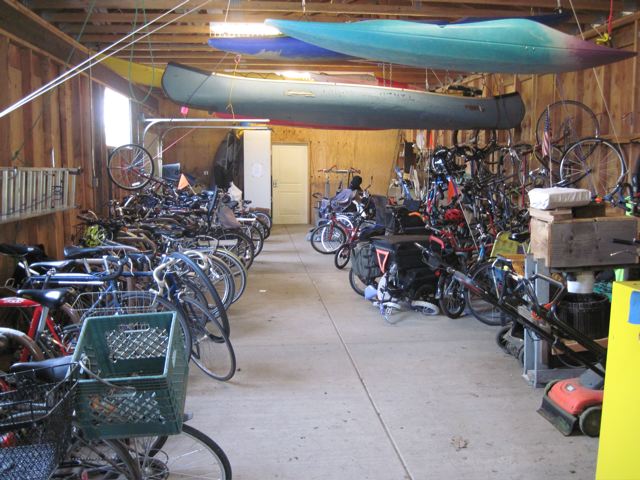 The city required them to build more parking spaces than they needed so they built a large garage and converted it into a "bike barn" including a bike repair area.   Corvallis is Oregon's most bicycle-friendly city with 95% of the main streets including bike lanes.  Also many miles of separated bike paths.   Any surprise that I was born there 🙂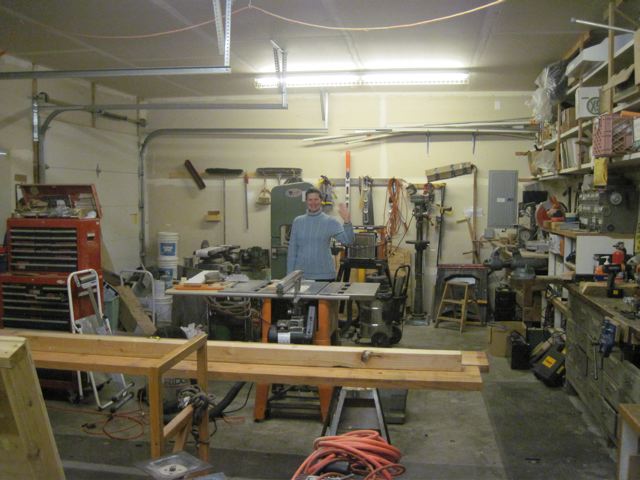 Also a community shop.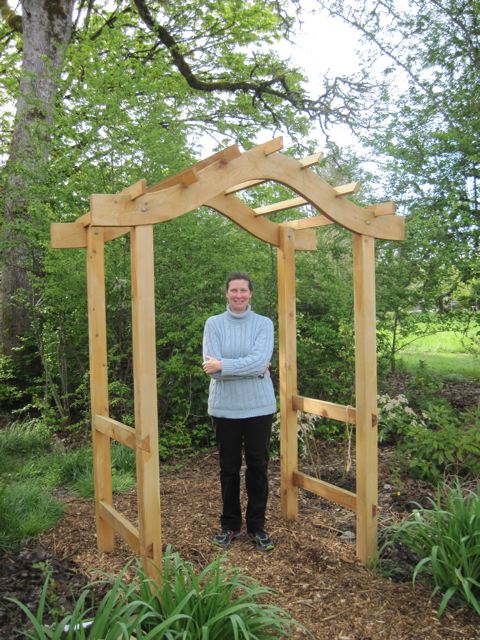 Lots of sweet "places" on the property.  You can walk a short ways through the woods to the Willamette River and parks.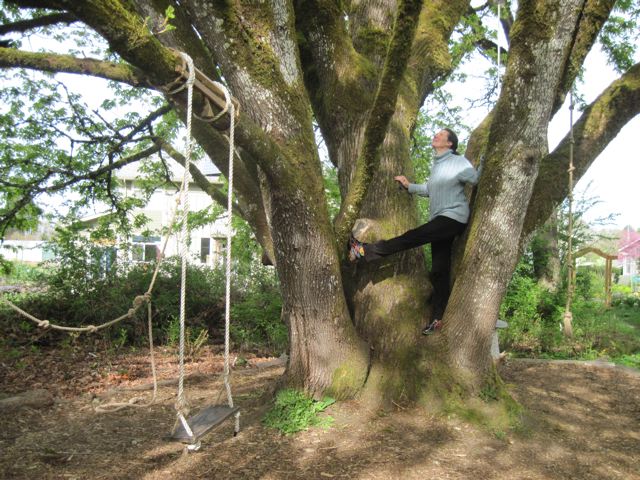 Cool ideas we also heard a little about:
— they ask a $20/night donation for use of the guestroom made out as tax-deductible gift to their favorite charity (their disabled resident unit that a sub group organized during development–www.ahomeincommunity.org).
— they have a 3-person team called the Hub (as of the wheel) of friendly non-threatening residents, whose job it is to check in with inactive residents to see how they are doing and see if there are any activities they might be interested in participating in.
— they have over 12 committees, most are just 1-4 residents, including: Community Life Cluster; Adminstration; Sustainability Action Team; Neighbors Team, Sustenance Team;  Common House Team; Finance Team; Grounds Team; Membership Team; Conflict Prevention and Resolution Team;  Long Range Planning Team with sub-teams for Carbon Footprint; Connections; Water resources
— they have 4 day-long work parties a year plus 1/2-day work parties the rest of the months.
— all residents are asked to work at least 4 hours per week; though it is not tracked and not a requirement.
— CoHo recently drilled a well for landscaping water.  Only had to drill 40′ but found the production so low that they are now proceeding to build a cistern to store the capacity they need.
— They have a number of non-resident associate members who pay $50 per month and have use of the facilities, also help with the work and committees.
— They have very detailed policies governing just about everything.
— They have tech savvy young members who have all kinds of administrative things on-line, including cooking and other sign ups;  eating sign ups and auto deduct for the cost of meals
— They are governed by a Steering Council that coordinates all the committees and convenes a monthly community meeting that makes decisions by consensus.
We were in awe of how organized they are and how strong the participation ethic is.   Clearly it takes a lot of energy to live there and participate.
The couple who was the driving force behind the creation of the community are still living there and have no plans to leave.
We asked our favorite questions of several residents:  What brings you the greatest joy living here?  (Kids playing together topped the list.)   Greatest heartache? People leaving and…  If you could snap your fingers what would you change?  More participation.    Sounded familiar.