Rob Dietz, a CoHo Ecovillage resident, has coauthored a groundbreaking book receiving widespread praise in the sustainability community.  Rob is also a strong speaker and recently presented an overview of his book at the Corvallis Sustainability Coalition's annual Town Hall meeting.  Rob's bio and a description of the forming groups follow a review by Noam Chomsky:
"Humans seem to be intent on confirming the argument of biologist Ernst Mayr that higher intelligence may be a lethal mutation. But the grim prognosis is not inevitable. This lucid, informed, and highly constructive book shows that with the will to act, solutions can be found to build a steady-state economy geared to meeting human needs."

Ro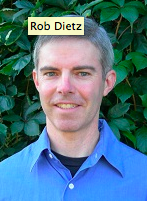 b Dietz is a writer, researcher, and activist trying to help build a better economy—one that works for people and the planet. He is the editor of the Daly News, apopular online publication named in honor of Herman Daly, a leading light of ecological economics. Rob was also the first executive director of the Center for the Advancement of the Steady State Economy, taking it from an unfunded start-up organization to an internationally respected leader on new economic thinking. He regularly writes articles and delivers public presentations that draw from his education and experience in both economics and environmental science. Rob is married, has one daughter, and lives in Corvallis, Oregon.
The first steps toward creating a sustainable economy are to acknowledge that "business as usual" isn't working and to begin to explore outside-the-box solutions.  That's exactly what 

Enough Is Enough

 is designed to do.   "This is the book we've all been waiting for," OSU's Kathleen Dean Moore has said of Enough Is Enough. Co-authored by Corvallis's own Rob Dietz who was the keynote speaker at Town Hall 2013, Enough Is Enough has been receiving much acclaim since its publication in January.   Although it addresses some key economic concepts, the book is clearly written for a lay audience, replete with humor, anecdotes, and a well-organized layout that moves the reader from problems to visionary but realistic solutions.  Beginning in May, the Corvallis Sustainability Coalition will organize a series of Enough Is Enough discussion groups to help foster exploration of a steady-state economy that is geared to meeting human needs.
The format will be similar to the Northwest Earth Institute model: small groups of people engaged in self-guided discussions with rotating facilitation.

Each group will determine when and where to meet and for how many sessions.

An orientation session will be held in early May to organize participants into groups and to further outline the process.

All who participate in the discussion groups will be invited to an evening of conversation with author Rob Dietz later this spring.
If you would like to participate, please call 541-230-1237, or send an email toinfo@sustainablecorvallis.org by April 25th.
February 2014 Update
British filmmaker Tom Bliss has produced and directed an 18-minute video that summarizes concepts from Enough Is Enough.
Last week, the video was shown at the world premiere in Leeds, UK, with more than 350 people in attendance.
Now it's your turn to watch!
http://www.youtube.com/watch?v=xQ-LYElvtEU