The focus of our spring Wellness Retreat was revising our land use vision (one of four goals from our Long-Range Planning process), starting with one "red button" topic–storage.  Having a smaller ecological footprint is a value for CoHoots, but that is balanced with the challenge of storing important personal and community items.
Although sharing feelings/needs was an intense process throughout the day, somehow most of the photos were of the food and fun episodes.  Go figure!!!
Cinnamon rolls have become a feature of our retreats.  The fragrance of rolls hot out of the oven set the tone for lots of community bonding.
Every years, the kids have a greater role in Wellness Retreats.  In addition to sampling the cinnamon rolls to verify they were irresistible, they helped set up equipment and supplies.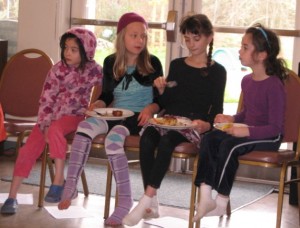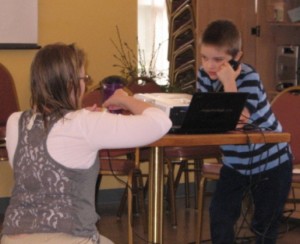 Musical chairs was a great after-lunch-pick-me-up.  Last year's episode was so memorable that some folks showed up a bit early to practice.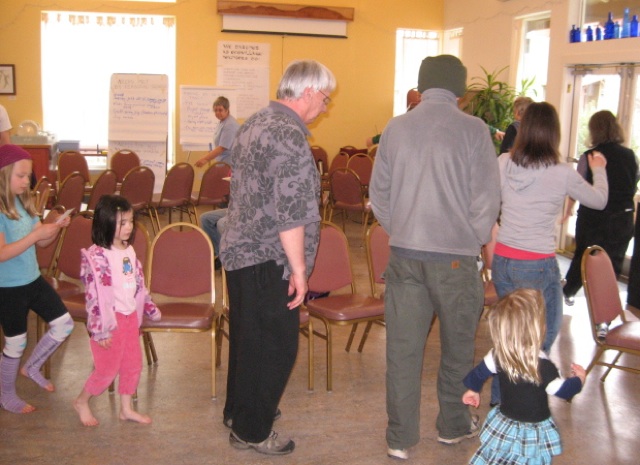 The kids also designed a very creative scavenger hunt to close out the day.  They hid (recyclable!) plastic lids with single letters around CoHo (while the adults were into heavy discussion), and gave teams a variety of clues.  When the letters were assembled back in the Common House, they spelled the refrain from our CoHo Song.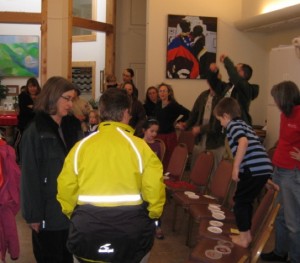 And of course, no community bonding episode is complete without a chance to cuddle your newest neighbor.