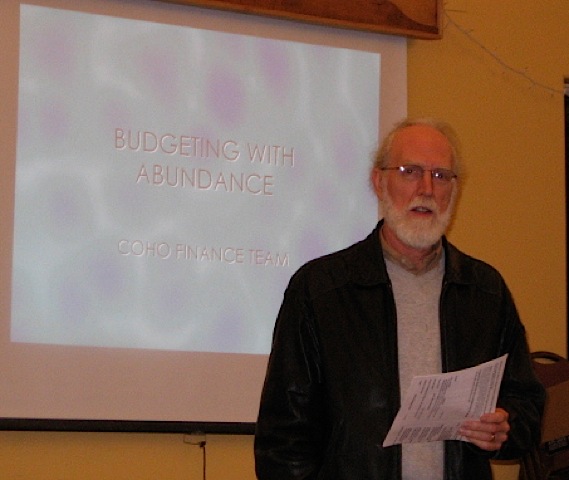 Our frugal Finance Team operates on an October fiscal year, but has already launched the first step in the community-oriented process of preparing our 2012 budget.
At our January Community Life Meeting, the Finance Team gave a presentation on Abundance (with a capital A).  With fiscal matters, it's sometimes tempting to think only of scarcity, deficits, rising costs, and budget gaps.  By starting with Abundance, the Finance Team help to shift the focus to our many assets (fiscal and non-fiscal) and what we have as a community on the "plus" side of the equation.
Teams identified the needs that were being met by their team's budget expenditures and shared their ideas with the large group.  The Buildings Team is meeting the need for "peace of mind" by keeping our buildings in good repair.  The Common House Team is meeting our need for "connection" by providing a space for us to meet and gather.  The Admin Team is meeting our needs for "continuity" and "organization" by maintaining our website, email lists, intranet site, and archives.  And so on….
As we continue on the budget-setting path, we'll hopefully continue to focus on the positive side of the equation with features such as…
…the ongoing social support we provide each other
…the lower HOA dues we pay because of our contributions of skill and labor
…the many ways we share child/pet care, vehicles, recreational equipment, and lots of other assorted stuff
…the savings from bulk-buying for meals and pantry and even solar panels,
…and, let's not forget…
…our well-funded reserves (a plus for both current and future fiscally-minded owners).