Well, the sun did not appear to show off Peter's artistry, but rainbow-festooned neighbors showed up to celebration the dedication of Peter's solar art installation (titled Inside a Diamond) on Sunday, October 16th.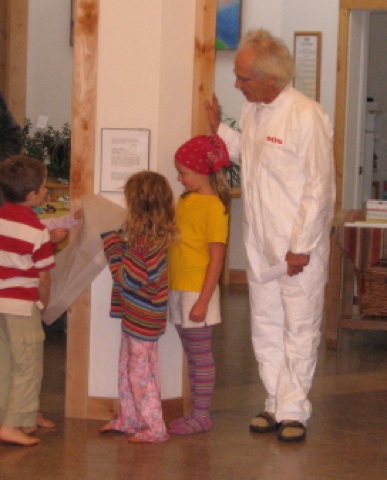 He unveiled a plaque to share the title and background of this one-of-a-kind work of art.
Inside a Diamond takes white Sunlight and spreads it into a spectrum from highest to lowest frequencies. Our brains present these frequencies to our minds as the colors of the rainbow. I created this art using miniature flat prisms in a 1" = 1' scale model of the tower, mounted on a tilting table, to simulate all the possible angles of Sunlight entering the space during the Solar year. The artwork changes radically from winter to summer and dawn to dusk.  Watch for modulations with clouds and haze.   Matinees only.
c. Peter Erskine 10.16.11
www.ErskineSolarArt.net
CoHoots danced to rainbow music, waved rainbow wands, ate rainbow cookies, and listened attentively to Peter's tales about discovering the magic of rainbows.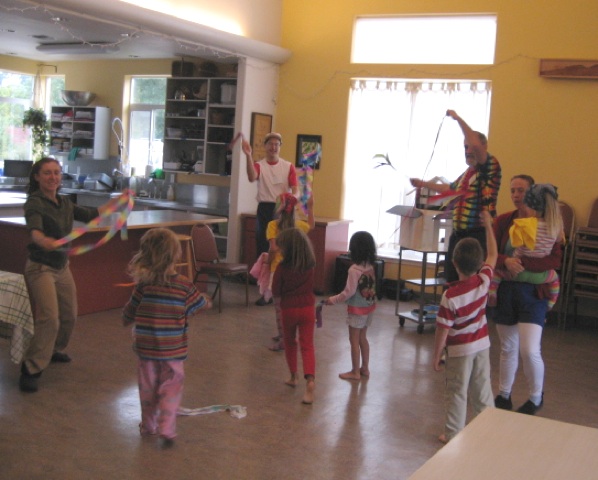 Peter showed a model of the Common House that he had constructed in order to design our installation.  He used a light to create rainbows in the model and give previews of rainbows on sunny days.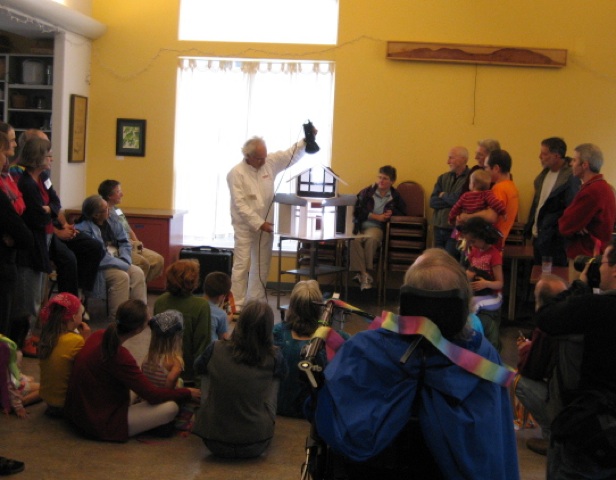 Check out the Gazette Times article/photos at http://www.gazettetimes.com/news/local/article_065dac8e-f88b-11e0-bce7-001cc4c002e0.html
Check out Peter's work at http://www.erskinesolarart.net/