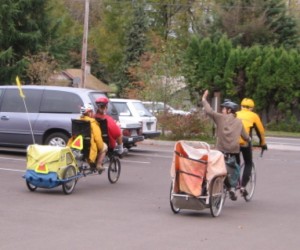 Four riders, two tandems, two trailers, plus 12.4 miles roundtrip added up to an eventful afternoon picking up orders at the Fill Your Pantry sale.
A dozen local farmers staged an event to sell quantities of produce directly to local customers.  Orders were placed via email and then picked up at A2R Farms south of Corvallis.
As part of the community work day, four CoHoots picked up almost 300 pounds of orders for their neighbors and the CoHo pantry.  Wheat, grains, potatoes, veggies, beans, honey and even some garlic seeds were nestled into waterproof bags to make the trip back to CoHo.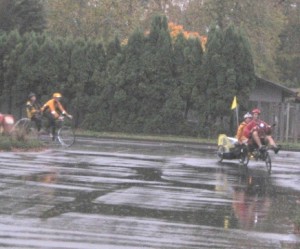 The event organizer said that local farmers had anticipated about 25 orders, but received more than 80.  Go local!
20101122 Update:  See CoHoots bikers at the very end of this short YouTube video of the event.
http://www.youtube.com/watch?v=ebAtEbU1MnY&feature=player_embedded