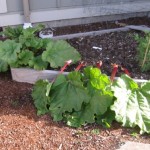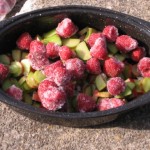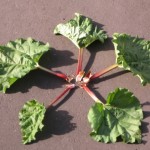 A tiny rhubarb plant, transplanted into a corner of a new raised bed, peeked out timidly in winter and then led the charge toward spring.  Evidently this happy little plant liked everything about its new home–the sunshine, the fresh soil and compost, the rainfall, the view of the Common House, and the admiration of folks passing by.
The first five mega stalks were harvested to make room for the rest to grow some more.
Rosy chunks of rhubarb were nestled together with the last of the frozen strawberries from the previous summer and gently cooked for hours in a solar cooker just a few feet from their garden bed.  With a touch of honey, they made a delicious addition to the dinner table–only a few feet away.
Fresh from farm to table.
Mmmmmmmm-good!